When we think of education, the things that come to our mind are the schools, colleges, and busy student life who are making the most of the fountain of knowledge. However, the reality is much less poetic. There are heaps of paperwork involved which requires a lot attention from the staff.
These include enrolment applications, financial aid, transactions, housing services, food services, tuition bills, security, contracts and so much more. All of these elements contribute to a wide array of documents that need to be dealt with by the staff. This is where the benefits of the education document management system come in.
What is an Education Document Management System?
Before we get into the intricate details of the benefits of applying an education document management system, here are the basics of it.
The education document management system (DMS) is software that empowers schools to go paperless with administrative work. You will be able to track, receive, manage, and store student data in a single and secured place. Most of the DMS companies will offer a suite of services. This will help you to customize the software for the school's needs.
Every year, your staff are tasked with a pound of work, while also ensuring the budget is met. Thus, counting the pennies is as crucial as calculating the amount of time you are wasting on tracking the documents. Whether it's a small community college, school, or a multi-campus university, you shall have to keep the focus on maintaining a balance between attracting and ensuring a top-notch student body and faculty. Also, the rules and regulations of student records must be impeccable.
Now, how can you keep the operating costs down? Make the best use of the education document management system.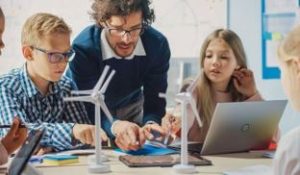 Benefits of Shifting to an Educational Document Management System
First, the transition to going paperless will not only benefit the classroom but will also save you from a lot of stress and create an efficient administration as well. Now, let us explore how schools, colleges, and universities can use the document management system to keep the process moving without pushing the physical paperwork.
Allowing universities to serve the students better is one of the most important benefits of an education document management system. Whether students are applying for classes, or they are looking for a past grade, they want a transcript, want to shift to a different school, or they want to access their records of a certain time, they will always be happy when they can access all the information quickly and easily. This helps in improving the overall experience at school.
Lesser financial stress is another important aspect of a document management system. When the financial processes like tuition fees, financial aid, accounts receivable, payable, and grants are automated, the overall financial health of an organization is benefitted. When you opt for an education document management system, the student lifecycle like transcript management, enrolment, and alumni involvement can be handled easily without adding staff. This is easy to implement, budget-friendly, and future-proof as well.
Document management and workflow automation empower an organization to digitize the tedious paperwork and securely save it in an organized repository. This includes quick retrieval when needed. You can easily capture, manage, store, process, and track documents. The document management system comes with features like controlled access, task lists, and email notifications. This enables the staff to handle the daily responsibilities in a much more effective way. The approval and decision-making process becomes easier. As a whole, the processing of information becomes seamless.
Productivity and collaboration are other important aspects of using an education document management system. You can create e-forms to capture and process student applications, transcripts, financial aid forms and so much more. The best thing is the capability to integrate documents with students' information systems and software for increasing the value of the existing technology.
The education document management system is future-ready. You can implement a user-friendly solution that will match up with the needs of multiple departments without having to add more tasks for the IT team. You can save major budget dollars on IT and hardware. Also, there are backup options and fail-safe disaster recovery plans for cybersecurity threats and natural disasters.
With an education document management system, it becomes easier for the universities to use the resources and serve their alumni. For educational institutions, serving the students doesn't stop even when their students graduate. While seeking future funding, the colleges might have to depend on accessing the records using document management software. When you have proper access to documents, it will allow you to not only develop a roster of future donors but will also serve the alumni in a much more effective way.
Finally, we are in a world of limited storage. The educational institutions are not very much different. Education document management software allows helps the record management staff to stick to appropriate retention schedules depending on multiple document classification types and promptly send files to offsite storage or for deletion. With a document management system, any educational institution can stay organized. Using proper software empowers an institution to run effectively and creates a big difference in how the documents are stored and how easily they can be accessed.
Some Final Words
A typical school deals with a wide array of documents every year. Right from student records, HR forms, transcripts, student portfolios, teacher portfolios, reviews, certifications, contracts, curriculum records and so much more. With the high volume of files, there is always tremendous stress on the office staff.
With the use of an education document management system, you can have a cost-effective solution that will ensure an immediate return on investment saving you and your staff time and money. If your institution is still working on the manual paperwork, it is high time to shift to a document management system.
Learn how to create a paperless office by digitizing your processes
Automate Workflows, Audit Trails, Collaboration and many more rich features.
Go Paperless